UNION STICKERS by
Union pride stickers
Home of the .60 cent union stickers. Now more user friendly!


CLICK ON CATALOG BUTTON TO VIEW STICKERS
ATTN: If you can't order on an iPhone, download
the Google Chrome app. This app will work fine.


Like us and share us with your friends.

Hundreds of union stickers in our catalogs and they are free to view. No catches, no gimicks, no passwords and no advertisements.


Powered by PayPal
The safest way to do business and you do not need to be a member.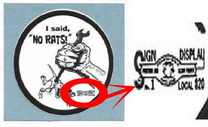 Quality American made, Union made hard hat stickers at great prices with the lowest shipping cost. If you find any better deals let us know. We'll buy some too!



Notice: Items labeled limited quantity, or close out, may create order shortages. If a shortage should occur, you will be notified via email to choose a replacement sticker.
---
Unlike online auction houses we make no profit on shipping fees. We ship via United Postal Workers Union and charge postage an shipping supplies only.
Our current shipping fees are.
1 to 14 stickers $0.75
14 to 28 stickers $1.00
28 to 52 stickers $2.75 by weight, padded envelope with tracking.
52 to 175 stickers $3.00 by weight, padded envelope with tracking.
175 and up $6.00 priority prepaid envelope or box with tracking.

Site powered by Weebly. Managed by
iPage